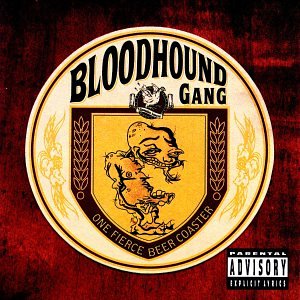 This was one of the first times I can remember going to the city for a concert, on a school night no less.
I was a big fan of the Bloodhound Gang's irreverent humor and their single "Fire Water Burn" was in heavy rotation for me at the time, as was the album
One Fierce Beer Coaster
. It was full of pop cultural references running the gamut from Gilligan's Island to Def Leppard, often in the course of a single goofy tune.
Goldfinger was a big favorite too on the strength of uber-catchy neo-ska tunes like "Mabel" and "Superman."
I was so amped for the show, I even bought Showoff's self-titled release earlier in the week and became instantly hooked.
Even the The Hippos later became one of my favorite third wave ska groups and I'll still throw on
Heads Will Roll
every once in a while.
The show was stacked with just the kind of music I was digging at the time and I got to enjoy it with all my high school buddies.
One lasting memory is crashing at a friend's parent's apartment uptown and missing the morning bus to our New Jersey private school causing us to miss the PSATs. That and the $1.50 subway fare.
It was also my first time at Irving Plaza (later rechristened Fillmore New York at Irving Plaza).