Tuesday, November 23, 2010
Set 1: Hurt Bird Bath, Ocean Billy > Resolution1 > Ocean Billy, Morning Song, Mulche's Odyssey
Set 2: Bridgeless > The Triple Wide2, The Bottom Half, Sweet Child O' Mine3, Push the Pig4, Miss Tinkle's Overture > Much Obliged > Bridgeless
Encore: Band on the Run5
1'Norwegian Wood' Tease 2'Carol Of The Bells' Tease ; '25 Or 6 To 4' Jam 3Jennifer Hartwsick on Vocals ; Last Played 10/16/2000 (891 Shows) 4Jake on Additional Keyboards 5Last Played 10/22/2002 (586 Shows)
Umphrey's was becoming less impressive with each performance I caught, but the price was right.
I don't remember much about this show other than the covers, neither of which were particularly inspiring.
Posted by

Joey Z.
at 9:55 PM
No comments:

Monday, November 8, 2010
HaDag Nahash (The Snake Fish) is a popular Israeli hip hop group that I discovered during my time spent there. I bought their album, La Zuz (To Move) at a bus station in Tel Aviv en route to the resort town of Eilat. Halfway between the two cities, I smoked a joint at a rest stop and then listened to the album. That was quite a trip.
Anyways, they came to America as part of this Jewish music festival so I decided to go check them out. Also on the bill was Yossi Piamenta (aka the Hebrew Hendrix) whose band happened to feature my favorite lady bassist, Tal Wilkenfeld.
We went down and sipped on tallboys at the grassy park overlooking the mighty Hudson River. The tunes were palatable and the Jew factor was high.
By the time HaDag Nahash hit the stage, I unfortunately had a bit of a headache, but they rocked the river nonetheless.
Posted by

Joey Z.
at 7:44 PM
No comments: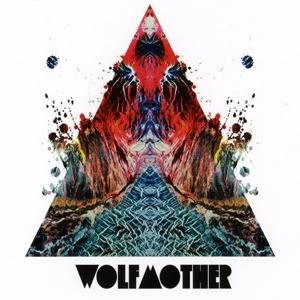 Gov't Mule
1: Bad Little Doggie, Brand New Angel, Streamline Woman, About To Rage, Larger Than Life, Brighter Days, Rocking Horse, Don't Step On The Grass, Sam, Thorazine Shuffle
2: Lola Leave Your Light On, Mother Earth, Mr. High And Mighty, Game Face > Mountain Jam > Game Face, Effigy > Drums > Unring The Bell, Blind Man In The Dark
Encore: So Weak, So Strong
The headliner of this show was Warren Haynes' power trio, Government Mule. I don't particularly care for Haynes' hamband ubiquity outside of the Allman Brothers, but I was itching to check out Brooklyn's hottest, newest outdoor venue - the re-purposed decrepit public park eyesore McCarren Pool.
I was also digging the pitch perfect '70s stadium rock imitation of Australia's Wolfmother.
Luckily I was able to do some promo for Rocks Off in exchange for free tickets.
Openers Two Gallants were a competent folk rock duo who gained their fifteen minutes several months later when one of them was tasered on stage in response to a noise complaint.
Gov't Mule was OK, but I was hungry so I left to get a sandwich, which I ate during the end of Mule's set.
Posted by

Joey Z.
at 7:12 PM
No comments:

One of my best friends from back in Rockland got married, so I took her and her husband on a Rocks Off cruise. They just made it before the boat left the dock.
BIYH is a Led Zeppelin cover band consisting of the Benevento/Russo Duo, Scott Metzger of Rana and Dave Dreiwetz of Ween.
My friends enjoyed the cruise, but wished there were vocals.
Posted by

Joey Z.
at 6:44 PM
No comments:

I went to this show primarily to treat some friends using my free passes.
The music was great, but riding around Manhattan on a boat free of charge was better.
I remember a security guard threw my cigarette overboard because he thought it was a joint. In all fairness, I
was
drying it with a lighter. Ironically, i had been smoking a bowl on a Rocks Off boat with Rocks Off employees just several weeks prior. The man who tossed my stoge passed away about a year later.
Posted by

Joey Z.
at 1:11 PM
No comments:

Tuesday, November 2, 2010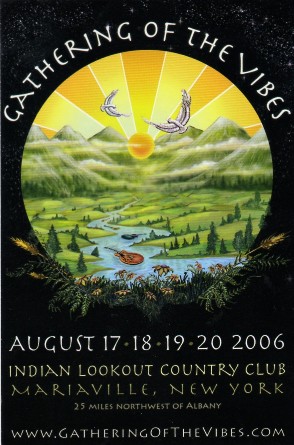 Ratdog 08/19/2006
Jam > Jack Straw* > Little Red Rooster > Bird Song* > Odessa, Friend of the Devil@*, Victim or the Crime@, Jus' Like Mama Said > Mississippi Half-Step* > The Other One > Stuff > Standing on the Moon > Bird Song (reprise)* > One More Saturday Night*
E: U.S. Blues*, Ripple*
*-with Donna Jean Godchaux-MacKay (Vocals); "Other One" verse two; Stuff - Jeff/Jay/Robin/Kenny/MK; Bob sat in with Keller on "Dark Hollow > On the Road Again"; Bob sat in with Hot Tuna on "Walkin Blues"; Bob sat in with Rhythm Devils on "Other One (verse one, Gordon vox) > Fire (Glenys vox)" and "GDTRFB" (also with Donna)
The same friend who took me to my first Phish show and hooked me up with an internship at Rocks Off got me a gig working at the Rex Foundation booth at Gathering of the Vibes, both of which sprung from the Grateful Dead.
The Rex Foundation was founded by "members of the Grateful Dead and Friends" in 1983 as a charitable non-profit organization to "proactively provide extensive community support to creative endeavors in the arts, sciences, and education."
Gathering of the Vibes began in 1996 as Deadhead Heaven: A Gathering of the Tribe, a memorial gathering for Jerry Garcia, who had passed one year prior. Eventually, it evolved into one of the most venerable east coast jam music festivals.
The line-up wasn't phenomenal, but I hadn't been to a festival since Coventry and the price was right, so I hopped in the Relix van Wednesday evening to embark on another festival adventure.
Unlike previous festive endeavors, this was less about the music and more about the experience.
Working for Rex, my supervisors were a couple of old Deadheads, just as psyched to be there as I was. The duties were light and my co-volunteers were great company. We were also situated right next to the Relix booth, which was frequented by a neverending stream of colorful characters.
There was a podcast recording of Reid Genauer at the Relix booth. Dead vocalist Donna Jean Godchaux and Woodstock clown Wavy Gravy stopped by the Rex booth to sign autographs.
In addition to the jam celebrity sightings, we also got benefits like delicious homecooked meals every day and VIP area access.
Musically, there was nothing too memorable, perhaps as a direct result of the generic Methadone I'd acquired prior to departure.
I saw Ratdog, the Rhythm Devils with Mike Gordon and Steve Kimock and Keller Williams, all of whose sets cross-germinated with each other for Grateful jambalaya.
Yonder Mountain String Band did not live up to the hype.
G. Love provided some much needed hip hop flavor.
One of my most anticipated acts, the Everyone Orchestra, got cancelled due to rain.
I was able to get some great pictures of Papa Mali.
Burning Spear was the highlight, with ganja fumes, rasta flags and morning sun making for an extremely irie time.
During the festival, I smoked weed in two entirely new ways.
On the last night, I found a small frog in my tent.
This was the last year Vibes would be held at the biker-run ILCC, but I would return many more times for Camp Bisco. I have yet to attend another Vibes.
Arriving home, in addition to the standard post-festival blues, I was struck by the abject emptiness of my abode, as my roommate and close friend had just moved out.
It was the spiritual end of summer.
Posted by

Joey Z.
at 8:10 PM
1 comment: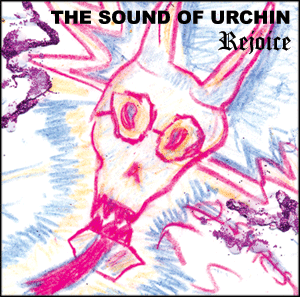 Having just started my internship at Rocks Off, I decided to take advantage of the free admission to the boat shows and join my friend on the Sound of Urchin cruise.
I think they played at least one song I knew. Unfortunately, two internships left me with so little energy, I almost fell asleep during the show.
The encore of The Price Is Right theme woke me up a bit.
Posted by

Joey Z.
at 1:31 PM
No comments:

My initial research led me to believe that this show was in 2006, but I definitely remember this being in the earlier part of my NYC residency. I distinctly remember driving from Flushing to the Bowery in about 15 minutes. Hurray for Wednesday night traffic!
This was my only time seeing music at the legendary NYC club CBGB, known for launching some of my favorite acts like The Ramones and the Talking Heads.
At this point, the club was on its last legs and decrepit as ever. I figured I should check it out before it bit the dust, so I met up with some hometown cronies for a pairing of the jammy Rana and the weird Sound of Urchin.
One of my friends is a huge Urchin fanboy so he had turned me on to some of their stuff.
The show even featured a guest appearance by one of the Moistboyz aka Dean Ween.
I left a few songs into Rana's set, which featured the blistering guitar work of jam scenester Scott Metzger.
Posted by

Joey Z.
at 1:13 PM
No comments:

My girlfriend's internship at the venue secured us admission to this high profile event, featuring the burgeoning singer-songwriter/guitar virtuoso performing multiple nights at the cozy LES venue.
Unfortunately, Ms. King tended towards her newer indie compositions and away from the technical fretboard wizardry that drew to her in the first place.
Posted by

Joey Z.
at 11:57 AM
No comments:

BB King's, New York NY 7/20/06
One (very long) set: First Tube, NICU, Tweezer > Foam, Carini, Yamar, You Enjoy Myself, Good Times Bad Times, McGrupp, 2001 > Crosseyed & Painless, TMWSIY > Avenu Malkenu > TMWSIY, Stash, Suzy Greenberg, Rift, Esther, Run Like an Antelope
Encore: Alumni Blues > Letter to Jimmy Page > Alumni Blues, Tweeprise
Sensing a need to indoctrinate my new lady friend into my hippie lifestyle, I took her to see the closest imitation of the preeminent hippie band of our generation as a 21st birthday surprise.
I remember being blown away by the YEM vocal jam.
Posted by

Joey Z.
at 11:47 AM
No comments: