Tuesday, December 21, 2010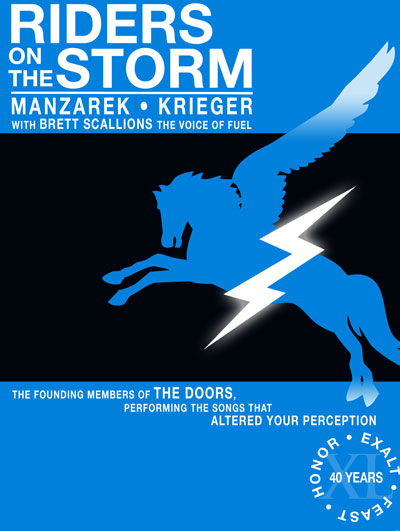 Following charges of copyright infringement after performing under the moniker Doors of the 21st Century, Ray Manzarek and Robby Krieger, original keyboardist and guitarist for The Doors respectively, headed out on another tour, this time borrowing a name from one of their best songs, Riders of The Storm. This incarnation included Fuel lead singer Brett Scallions.
No one, much less Scallions, could ever hope to replicate the stage presence of the legendary original front man Jim Morrison, but the show was an enjoyable, if predictable string of faithful renditions of classic Doors hits.
The real thrill of the night came later at the Hotel QT's swim-up bar. The pool area also featured a steam room and a sauna. A DJ and projectionist added to the ambiance. The whole set-up was simultaneously relaxing and liberating, inspiring various random acts of nudity.
Posted by

Joey Z.
at 8:20 PM
No comments:

Monday, December 20, 2010
I came for Galactic, but I was pleasantly surprised by opener Reggie Watts. I had previously seen him and his powerful pipes sit in with Soulive. I also knew that he fronted a Pacific Northwest R&B soul funk group called Maktub, so I figured I'd be catching something along those lines.
What I learned is that Reggie Watts had decided to divert his considerable vocal talents to the field of alternative comedy, combining looped beats with off-kilter, tongue-in-cheek witticisms and observations to create some of the most original comedic material I've ever witnessed. It truly must be seen to be understood.
Posted by

Joey Z.
at 8:27 PM
No comments:

Somewhere along the line, it seems as if Redman got forgotten by the history of hip hop. He certainly gets his accolades, but he seems to no longer be in the conversation about great MC's.
This small club gig featured a stellar live backing band in what seemed to be the trend in hip hop shows at the time.
True to form, Redman smoked a fat blunt on stage.
The event fittingly featured free Olde English malt liquor.
Posted by

Joey Z.
at 3:04 PM
No comments:

American Beauty - Sunday, January 21 at 8:00 p.m.:

Box Of Rain - Toshi Reagon
Friend Of The Devil - Mark Eitzel
Sugar Magnolia - Jim Lauderdale and friends
Operator - Jorma Kaukonen and friends
Candyman - Jay Farrar (Son Volt)
Ripple - Dar Williams and Dan Zanes
Brokedown Palace - Ollabelle with Larry Campbell
Till The Morning Comes - Espers
Attics Of My Life - Larry Campbell with Teresa Williams and Rob Barraco
Plus instrumental interludes by: Andy Statman, Tony Trischka, and Sex Mob
The Sunday edition of this two night tribute seemed even rowdier than Saturday, confirmed at the conclusion when the emcee announced that the cavernous Winter Garden had actually reached capacity.
The more raucous vibe was likely due to the more upbeat tunes of this album compared to its folksier predecessor. Especially impressive were the Klezmer-inflected instrumental interludes.
The steady ascension of
American Beauty
to the top of my favorite albums list can be traced back to this night.
Posted by

Joey Z.
at 2:43 PM
2 comments:

Workingman's Dead - Saturday, January 20 at 8:00 p.m.:

Uncle John's Band - Ollabelle with Larry Campbell
High Time - The Holmes Brothers
Dire Wolf - Larry Campbell with Teresa Williams and Rob Barraco
New Speedway Boogie - Catherine Russell
Cumberland Blues - The Klezmatics
Black Peter - Jim Lauderdale with John Leventhal, Brandon Ross and friends
Easy Wind - Tim O'Reagan (the Jayhawks)
Casey Jones - Railroad Earth
Plus instrumental interludes by: Tony Trischka and Andy Statman
The American Beauty Project was an ambitious tribute concert featuring various artists interpreting the Dead's landmark 1970 albums.
The shows were free, and the venue was the atrium of the World Financial Center Winter Garden, resplendent with glass arched ceilings and view impairing artificial palm trees.
The encore featured a full ensemble take on "Knockin' On Heaven's Door."
Posted by

Joey Z.
at 1:41 PM
No comments:

Sometimes in this city, an evening on the town can yield unexpected surprises. This night led me to discover a new favorite venue adjacent to the BQE.
Rose is a mellow spot in a quiet unassuming neighborhood. They have friendly, helpful bartenders and a reasonably priced, sometimes delicious menu. I'm a sucker for the cheese plate.
They also host an eclectic blend of jazz, hip hop, world and other music on an almost nightly basis.
Mission: On Mars was a sitar-based group, prone to the swirling psychedelia practically inherent in the sitar sound, but grounded in the soothing breakbeats of contemporary lounge. Their down-tempo jams fit the ambiance of the room flawlessly.
Posted by

Joey Z.
at 12:56 PM
No comments:

Nearly recovered from mono, I caught one of my favorite NYC drummers at one of my favorite NYC venues in a barely belated birthday celebration.
Set 1: Meat, Captain America, Akimbo, Big World, Y.O.Y. > George
Set 2: Head > Kyle's Song, Crab Eyes, Dr. Graffenberg > Can't You Hear Me Knocking > Rebubula
Encore: Faker > Head
Somehow I had managed to avoid moe. until this point, despite my tastes tending towards the exact brand of jam rock they purvey. I liked them enough, but I never developed the obsession that the moe.rons have.
This was an intimate venue appetizer to the main course New Year's Eve extravaganza at the much larger Radio City Music Hall. I decided to avail myself of the perks of my volunteer work to catch the sold out show.
The music was enjoyable enough, if mostly forgettable, but the proceedings were overshadowed by the spectre of the mononucleosis with which I had recently been diagnosed. As a result of the disease, I was forced to abstain from drinking for a month, forgo any New Year's Eve celebrations and skip a non-refundable snowboard trip to Colorado in January.
Posted by

Joey Z.
at 12:26 PM
No comments:

The Greyboy Allstars formed out of a collaboration between SoCal acid jazz DJ Greyboy and saxophonist Karl Denson. Eventually the project swelled to a full band soul funk project including organ wizard Robert Walters. This show was one of the first after a several year hiatus.
Posted by

Joey Z.
at 12:06 PM
No comments:

I believe this was the show that The New Deal busted out an unexpected cover of Billy Joel's "Movin' Out (Anthony's Song)," even eschewing their predominantly instrumental approach for a stab at some of the staccato chorus.
Posted by

Joey Z.
at 11:02 AM
No comments: