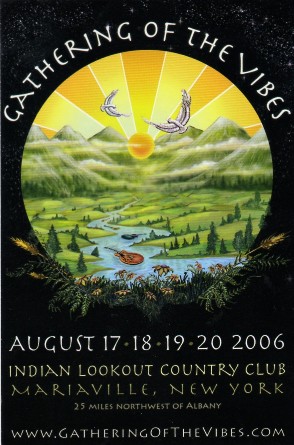 Ratdog 08/19/2006
Jam > Jack Straw* > Little Red Rooster > Bird Song* > Odessa, Friend of the Devil@*, Victim or the Crime@, Jus' Like Mama Said > Mississippi Half-Step* > The Other One > Stuff > Standing on the Moon > Bird Song (reprise)* > One More Saturday Night*
E: U.S. Blues*, Ripple*
*-with Donna Jean Godchaux-MacKay (Vocals); "Other One" verse two; Stuff - Jeff/Jay/Robin/Kenny/MK; Bob sat in with Keller on "Dark Hollow > On the Road Again"; Bob sat in with Hot Tuna on "Walkin Blues"; Bob sat in with Rhythm Devils on "Other One (verse one, Gordon vox) > Fire (Glenys vox)" and "GDTRFB" (also with Donna)
The same friend who took me to my first Phish show and hooked me up with an internship at Rocks Off got me a gig working at the Rex Foundation booth at Gathering of the Vibes, both of which sprung from the Grateful Dead.
The Rex Foundation was founded by "members of the Grateful Dead and Friends" in 1983 as a charitable non-profit organization to "proactively provide extensive community support to creative endeavors in the arts, sciences, and education."
Gathering of the Vibes began in 1996 as Deadhead Heaven: A Gathering of the Tribe, a memorial gathering for Jerry Garcia, who had passed one year prior. Eventually, it evolved into one of the most venerable east coast jam music festivals.
The line-up wasn't phenomenal, but I hadn't been to a festival since Coventry and the price was right, so I hopped in the Relix van Wednesday evening to embark on another festival adventure.
Unlike previous festive endeavors, this was less about the music and more about the experience.
Working for Rex, my supervisors were a couple of old Deadheads, just as psyched to be there as I was. The duties were light and my co-volunteers were great company. We were also situated right next to the Relix booth, which was frequented by a neverending stream of colorful characters.
There was a podcast recording of Reid Genauer at the Relix booth. Dead vocalist Donna Jean Godchaux and Woodstock clown Wavy Gravy stopped by the Rex booth to sign autographs.
In addition to the jam celebrity sightings, we also got benefits like delicious homecooked meals every day and VIP area access.
Musically, there was nothing too memorable, perhaps as a direct result of the generic Methadone I'd acquired prior to departure.
I saw Ratdog, the Rhythm Devils with Mike Gordon and Steve Kimock and Keller Williams, all of whose sets cross-germinated with each other for Grateful jambalaya.
Yonder Mountain String Band did not live up to the hype.
G. Love provided some much needed hip hop flavor.
One of my most anticipated acts, the Everyone Orchestra, got cancelled due to rain.
I was able to get some great pictures of Papa Mali.
Burning Spear was the highlight, with ganja fumes, rasta flags and morning sun making for an extremely irie time.
During the festival, I smoked weed in two entirely new ways.
On the last night, I found a small frog in my tent.
This was the last year Vibes would be held at the biker-run ILCC, but I would return many more times for Camp Bisco. I have yet to attend another Vibes.
Arriving home, in addition to the standard post-festival blues, I was struck by the abject emptiness of my abode, as my roommate and close friend had just moved out.
It was the spiritual end of summer.