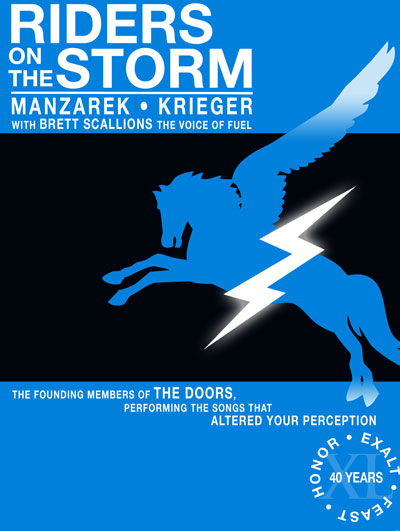 Following charges of copyright infringement after performing under the moniker Doors of the 21st Century, Ray Manzarek and Robby Krieger, original keyboardist and guitarist for The Doors respectively, headed out on another tour, this time borrowing a name from one of their best songs, Riders of The Storm. This incarnation included Fuel lead singer Brett Scallions.
No one, much less Scallions, could ever hope to replicate the stage presence of the legendary original front man Jim Morrison, but the show was an enjoyable, if predictable string of faithful renditions of classic Doors hits.
The real thrill of the night came later at the Hotel QT's swim-up bar. The pool area also featured a steam room and a sauna. A DJ and projectionist added to the ambiance. The whole set-up was simultaneously relaxing and liberating, inspiring various random acts of nudity.