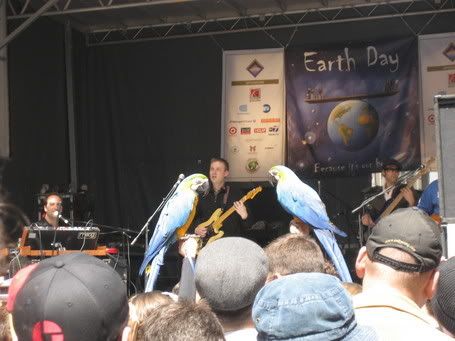 04/21/06 EarthFair, New York, NY
free, outdoor event, as part of Earth Day New York and the Green Apple Music Festival
Set I: In the Kitchen, Utopian Fir> Higgins, Bridgeless
This was a free show in conjunction with the first year of Peter Shapiro's Green Apple Music Festival, an environmentally conscious series of performances that would suffer in later years due to its expansion to other cities. Lately, the climactic event has been a concert on the National Mall in Washington, D.C. featuring acts such as The Roots and Ratdog.
There was a full slate of music set up on Vanderbilt Avenue just outside of the magnificent edifice of Grand Central Terminal. I caught the last few songs of Grace Potter, the sexiest lady in the jam scene since Tal Wilkenfeld.
Umphrey's was up next with a mini-set that served as a warm-up for their later night set at CBGB's. They opened with the catchiest track off their best release, Anchor Drops. Everything else was gravy. There was even a lady who brought her parrots.
I linked up with some random hippies and went on a mini adventure in Manhattan before swinging back around Grand Central for a little bit of The Mutaytor with special guest Mickey Hart. I believe he was leading a percussion ensemble which at one point included Walter Cronkite. Then it was off to the next show at Nokia.